Come Sing and Play in Darralyn's Studio!
Voice & Flute
Join Darralyn's studio of talented musicians who achieve success through the use of skill-building exercises and the study of beautiful music. Darralyn teaches both voice and flute, and finds that there are many similarities between the two. Beauty of tone, technical skill, and confidence are the cornerstones of Darralyn's method of teaching.
The Italian method of teaching singing known as Bel canto, meaning beautiful singing, incorporates a strong, natural tone that is achieved through a coordination of engaging certain muscles while relaxing others.  Singing in this style requires dedicated study and considerable physical exertion, but once mastered, it is a very liberating achievement.  Anyone can learn to improve their vocal tone, range, and flexibility.  Improving in these areas can benefit singers of any style of music, from Opera to Musical Theater to Pop.  Every person's voice is unique, but the muscles and organs and the way they operate is the same, and the art is in training them to allow your unique voice to be strong and beautiful.
Students in Darralyn's studio are aged 11 years through adult, and study a wide variety of music.  Most students study a combination of songs from Musicals, Art Song, Disney Songs, Sacred Music, Spirituals, Pop, and some ensemble music.  Many students compete in the WSMA Solo Competition and perform in a number of community events such as Recitals, the Cancer Society's Relay for Life (Sussex/Menomenee Falls), special events, and community theater.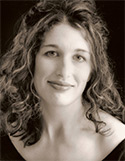 Darralyn Scott
Voice & Flute Instructor